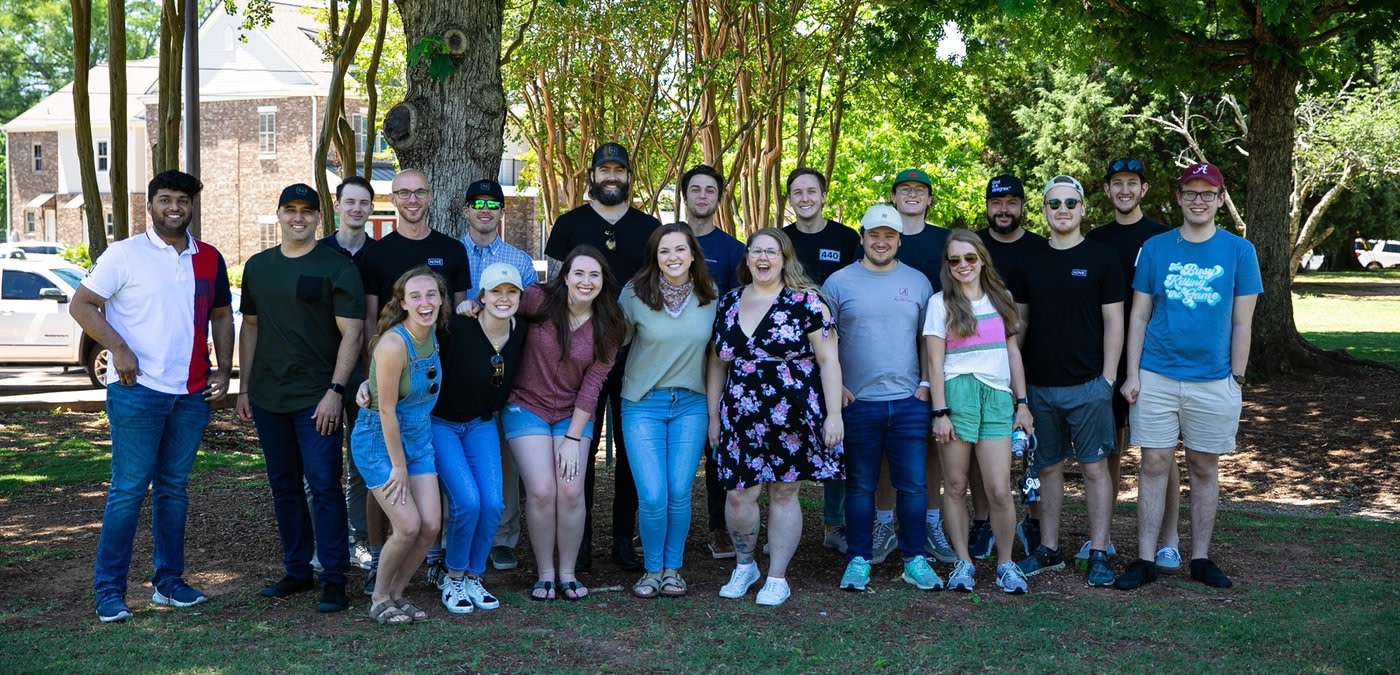 1. Love God 2. Love People 3. Love What We Do
We're Hiring!
🙏 Loves Jesus, Design and All Things Digital.
Husband to Kim, Daddy to Elle and London. Leader of The Nine & Co-Founder of myCast, Simply Sold and Trucking Labs.
Robby started The Nine in 2007 with a vision of becoming a leader in the digital landscape in The South. His background in Architecture (bachelor Architecture, Auburn University 2003) has helped him with designing the user interface for Caboose (The Nine's custom Content Editing Framework) and overseeing the direction and future of The Nine. As Chief Architect, he works closely with the lead designers and front end developers to help share his passion for great design. It has always been his goal to provide a work environment that motivates and keeps his employees pushing to be the best in everything that is produced from The Nine. He is active in the community and his church, Church of the Highlands. His heart for the homeless is the driving force behind everything that he works to accomplish with Canvas a newly founded 501(c)(3) that is in the works.
💵 Activator of Growth & Transformation
Cares most about happy, healthy, free people. Homeschooler & Founder of Vox Verba.
Andrya calls the beaches of Pensacola, Florida home today, but she grew up only a mile from The University of Alabama. After falling in love with communications in collegiate speech and debate, Andrya combined language with technology by building content marketing systems for brands. Since then, Andrya has developed the brand content systems behind millions of dollars in revenue across the globe. Now, Andrya partners with businesses to develop growth initiatives with Georgia Tech and the department of Commerce. Andrya hosts a weekly creative writing group for global authors and published her first collection of poetry in 2019, Lightwork. Andrya holds a Masters in Strategic Communication and Leadership.
👨‍💻 World Traveler & Coder Extraordinaire
Dad to Cooper, Malaysian at Heart.
Billy graduated from the Computer Science program at The University of Alabama, where he fine-tuned his programming skills. His background in graphic design enables him to code websites that are both visually appealing and easy to use, while maintaining a high level of functionality. Billy has in-depth knowledge of HTML5, CSS, jQuery, and Ruby on Rails - and dabbles in other languages. When he's not coding, Billy enjoys bonfires, quoting The Office, serving at his church, and traveling to Colorado. He is also the proud owner of a deaf Dalmatian named Cooper. He grew up in Dallas and Birmingham, and now resides in Northport.
💂 Wearer of Wigs & Asker of Questions
Wife, kids, and two Chiweenie dogs. Just trying to get a bitcoin.
Paris grew up in Tuscaloosa, AL being heavily involved in church, sports, music, and art. He graduated from The University of Alabama in 2006 with a Bachelor's degree in Studio Art & Digital Media. As a freelance designer and web developer, he worked for clients around the world. He then started and partnered in several businesses, working in whatever roles were needed to move the companies forward, from janitor to CEO. Since focusing on digital marketing the past 8 years, he's helped companies grow from $0 to millions in revenue. He hosts the First Customers podcast and invests in interesting projects like Trucking Labs, myCast.io, and Vox Verba. He enjoys exploring the Earth with his family and learning the ways of ancient humans.
🚌 Lives in a Van, No Literally
Husband to Abby. Pixel Perfectionist. Epic Adventurist.
James is an adventurer and designer at heart. Graduating from The University of Alabama with a BA and MA in Public Relations and Advertising, James was among the first students from one of UA's top schools to help develop a creative curriculum in the school of communications on the campus. As a photographer, James has produced images for major outdoor brands leading him to develop a love for anything outside and has shot for major interior design publications leading him to develop a well-rounded approach to design in the physical and digital. During his tenure at The University of Alabama he was awarded the opportunity to teach senior-level design courses as a part of his Master's program with which he is able to lead our design team with both technical expertise and creative thinking that extends to our client's brands and projects. Originally from Fairhope, Alabama, James now travels the country full-time with his wife Abby and teddy bear golden-doodle named Coast.
💂 💂 He's a lawyer
Father of Five. Husband to Lauren. Legal council and wisdom provider.
Rick joined the Nine in 2021 as an Investing Partner. Last year Rick was appointed to the Alabama Innovation Commission by Governor Ivey. During his time serving on the Innovation Commission, Rick began seeking opportunities to partner with and invest in people that have the potential to be leaders of innovation and that is exactly what he found with the NINE. Rick brings his experience as a General Counsel and Corporate Secretary for Mercedes-Benz US International to the company along with his years of engineering experience in the automotive industry. Rick is passionate about helping others achieve success. He loves to share his faith and pray for others. Rick is inspired daily by his wife Lauren and their 5 children.
☀️ Lover of White Space
Designed her first logo for an airline at the age of 12
Wife to Chris - Mother of Mila, Ali, Gray, and Jack Amanda graduated from the University of Alabama with a B.A. in English/Creative Writing and M.A. in Advertising and Public Relations. With over a decade of experience in web and identity design, Amanda leads the creative team with a seasoned eye for detail and passion for growth. When she isn't working at the Nine or spending time with her family, Amanda is pursuing a Master's Degree from Southern Baptist Theological Seminary. Whether camping or trail running, Amanda feels most at home in the woods. She plans to walk on her hands by 2023.
⏱️ ⏱️ Master of All Things Basecamp
Husband to Hannah, Father to Laken, Remy, Ella, and Ava.
Sam Morgan graduated from The University of Alabama with a Bachelor's degree in Kinesiology. He obtained his BS while competing on behalf of the University's Men's swimming program. Sam honed his marketing and sales skills as he grew multiple fitness enterprises in the Tuscaloosa area. He prides himself on being customer-focused and providing highly personalized services. Sam is actively involved with the West Alabama Chamber of Commerce through their Young Tuscaloosa program and when he isn't working with his clients or volunteering with the community, you can find him traveling the southeast exploring culture, food, and adventure.
🧑‍🚒 🧑‍🚒 Former Firefighter
Husband, Father, All-Around Asian Badass.
Sean Lee is a Druid City local. He attended The University of Alabama for Digital Media with a minor in Creative Writing. He has worked with internationally recognized ministries as well as the federal, state, and local government. He enjoys playing a variety of instruments as well as training in Jiu-Jitsu in his spare time.
⏱️ 🇩🇪 Former Germany Local
Host of international parties
Mary Beth graduated from Westminster College with a BS in Management Information Systems and a BS in Accounting. Mary Beth worked as a CPA in accounting for nearly ten years and as a recruiter for almost ten more before making the switch to Client Relations and Account Management. She and her family had the opportunity to live in Germany for three years before she joined The Nine. She and her husband, Travis, have three children Elijah, Adam, and Violet, and a Boston Terrier named Prissy. They love to host dinner parties with friends and family.
⏱️ 🪄🔮SEO Wizard
Proud owner of YaYa, undeniably the cutest French bulldog in the world.
Tye attended The University of Alabama to study political science and computer science. He learned the art of SEO while recovering from injuries from the 2011 Tuscaloosa tornado. Since then, he has focused all of his attention on SEO and never looked back. Tye has 10+ years of experience in SEO, spearheading projects that increased organic traffic on e-commerce, editorial, agency, real estate and apartment websites and achieved top position for extremely competitive keywords and keyword groups. Tye is the proud owner of a French bulldog, YaYa, and loves golfing and the beach, preferably golfing on the beach.
🚴‍♂️ Outdoors Traveler of the World
His real name is Jonathan, We NEVER knew.
Jon was born in Tuscaloosa, Alabama and received his Bachelor's degree in Computer Science from The University of Alabama. He has worked on major software development for nationally-used software and continues to develop his app developing skill across multiple platforms. He specializes in iOS app development and device management, but is also proficient in back-end development on the Rails platform. When Jon is not spending time crafting software, he enjoys the great outdoors, traveling, and experimenting with new technology.
📰 📰 Sunburns easily. Wants everyone to get along.
Daughter, sister, buddy, and devout latte consumer
Malarie is a graduate of Bevill State Community College and the University of Alabama where she received her B.A. in digital media. Her humble beginnings in the design world started at a local newspaper company where she produced various forms of print and digital media. She spent a few years as a hobbyist beekeeper and is currently a big sister to a Bichon Frise named Ellie (aka Turkey). She treats herself every morning to a latte from her favorite local coffee shop. During her free time she enjoys spending quality time with her loved ones, attending live concerts, watching reruns of her favorite television shows, and traveling. Malarie lives in Jasper, Alabama.
✋ Asker of Questions
Most encouraging person in the WORLD
Corinne grew up in North Salem, NY and graduated high school in Lake Norman, NC. She now attends Auburn University where she is working towards a degree in communications and a minor in graphic design. Corinne has always appreciated art and creativity and has become passionate about expressing that appreciation through technology. Corinne is involved in the local community by serving the mission of Young Life at Opelika High School and working with the Creative Team at Auburn Community Church. Corinne has a love for pugs, especially the two she has at home, Emmett and Bodie.
🎩 King of Hats
Met Billy Murray once.
Noah is a Tuscaloosa native and graduated from Auburn University with a degree in Hospitality management and a minor in Business. Noah has worked with The Nine since the summer of 2020, formerly as a Project Manager, and currently in Business Development. Noah has a passion for connecting with people and solving problems, two reasons he was drawn to The Nine. Currently residing in Chattanooga, TN with his wife Corinne, Noah loves being outdoors, listening to old country music, drinking coffee, and watching either the Atlanta Braves or Seinfeld.
🥬 Once grew a 15 lb cabbage
And she was only 8 yrs old
Emily is a native of Dothan, AL, better known as the peanut capital of the world. She graduated from The University of Alabama with a degree in Public Relations, as well as a General Business minor. Emily has a passion for people and a love for anything creative, leading her to choose her major. She is a new resident to Knoxville, TN where she and her husband work with Younglife, a ministry mentoring local high school students. She has a bad habit of squealing everytime she sees a dog and is unashamed of asking any stranger if she can pet their pup.
🏴󠁧󠁢󠁳󠁣󠁴󠁿 Joined The Nine from Scotland
Has a terrarium for a bedroom
Lee grew up in Arbroath, Scotland, where he graduated with a Bachelors in Web Design and Development at Abertay University. He made the move to Tuscaloosa, Alabama seeking new opportunities and to be united with his now wife. He and his wife help the local community by fostering kittens from Tuscaloosa Metro Animal Shelter where she previously worked. He is passionate about working alongside his valued team members at The Nine. One of his ambitions is to aid companies and business owners in establishing a notable online presence, from which they can achieve elevated rates of consumer and community interaction. Lee is an animal lover of all kinds, a proud owner of two loveable cats, a beautiful bearded dragon and a charismatic chameleon.
🐕 Dog Mom and Bingemaster.
Tessa has watched The Office in its entirety 10+ times
Tessa hails from small-town Brierfield, AL where there are six churches, one gas station, and no traffic lights. She currently attends The University of Alabama where she is pursuing a Bachelor's Degree in Computer Science. Her past experience includes a TA position in CS 100 at UA and an internship in IT at International Paper. Tessa's is proficient in multiple programming languages including C, C++, Java, and Python. She has also done work in several other languages and enjoys learning them in her free time. When Tessa isn't buried in code, she enjoys watching various TV shows on Netflix, spending time with her Fiancé, Dylan, and playing with her five dogs: Jet, Poncho, Rusty, Chewy, and Chilli.
🐱 Cat Mom and Tuscaloosa Local.
Natasha once lived in Ireland
Natasha grew up in Tuscaloosa, AL before furthering her education at the University of Alabama. She is a senior majoring in Management Information Systems. She came to The Nine looking to expand her knowledge and skills in web development. Her favorite animals are cats (she has an orange tabby named Ozzie). Her favorite pastimes are reading books and playing Minecraft. A fun fact about Natasha is that she lived in Ireland for a year!
🐕 Corgi Mom & Mac n Cheese Enthusiast
Bham Wedding and Portrait Photographer
Emily grew up in Hoover, AL and graduated high school from Hoover High School. She then moved to Tuscaloosa to attend the University of Alabama, and graduated with her Bachelors of Arts and Communication and Information Sciences in 2021. Emily has also been a wedding and portrait photographer in the Tuscaloosa and Birmingham areas for the last four years, and is loving every second of it. Emily is passionate about content creation, helping others, and making client's visions come to life through media. Her goal in life is to leave others better than she found them, and she is eager to learn new things in order to be successful in her career endeavors. Aside from work, Emily and her husband are newly Birmingham based, she is a corgi momma to Nova and Nash, and soon-to-be Momma to a sweet little girl in April 2022.
🚗 Knows how to drive a stick shift
Does archery in free time. 🏹
Amelia grew up in Helena, AL and graduated from Helena High school. She is in her senior year at Belhaven University where she is majoring in graphic design and minoring in dance. Amelia was introduced to graphic design her senior year of High school. She fell in love with designing and decided to pursue it further. Amelia loves doing her design work in coffee shops with friends. She also has two amazing cats named Little Bit and Waffle.
😎 Very cool and very funny
Slept through a 30 minute fire alarm as a freshman
Born in Petersburg, Virginia, Terrell earned his bachelor's degree in public relations at the University of Alabama, a school with an award winning, world class communications department. Hoping to take his education to the next level, he enrolled at UA once again, this time as a graduate student. With a background in client relations and content writing for organizations, Terrell lends his skills to The Nine's marketing team, expanding his communications skill set even further.
🐶 Michigander and dog lover
Allergic to chickpeas
Kelly is originally from Rochester, Michigan, but made her way down south where she attended the University of Alabama. Graduating with a B.A. in News media in 2020 she then pursued a Masters degree in public relations and advertising, in which she recently accomplished in December 2021. Kelly came to The Nine as an intern, where she has now filled the role of social media specialist where she contributes to everything Nine related. When not working Kelly enjoys spending time with friends, skiing and playing with her dog.
🏔 Mountain Lover
Relationship Phenom
Mike graduated from Samford University and is a professional relationship builder. His vast experiences in the music industry, coaching/education, non-profits, State & County Government, volunteering, being on non-profit boards and the public sector have molded him into his strength as a valued connector.Mike enjoys hiking the mountains, from Oak Mountain State Park in Birmingham, to Estes Park, CO and has ascended Long's Peak in the Rocky Mountains 7 times. Mike loves sports and singing. He has performed the National Anthem at professional and collegiate events.
Mike is married to Diana and has three wonderful adult children, all with servants hearts. He grew up in Birmingham, and moved back there 18 years ago.
We LOVE Our Clients
And they LOVE us
Working with The Nine and Billy has been a fantastic experience for us. They are prompt, proficient and offer us multiple perspectives in order to maximize the potential of our website. They are far from a static group and are certainly the most dynamic group we have worked with. It's not just what's on the surface of The Nine that is great, it is also what's under the surface that makes The Nine great.